Profile

Achtung: Zwerge
Keep off the grass!
Free Account
Created on 2017-04-09 19:45:56 (#2992026), last updated 2017-05-23 (17 weeks ago)
3,892 comments received, 1 comment posted
1,863 Journal Entries, 199 Tags, 0 Memories, 15 Icons

About

Mini Bio
New Look, Same Crappy Content!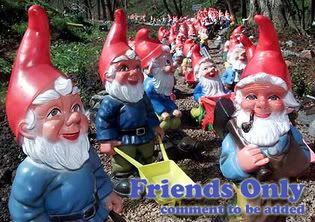 Friends help you move. Gnomies help you move bodies.
Hey, look. I have 101 interests. Let's make a coat out of them.
I am 154.94 centimeters tall.
My life revolves around my
cat
, sometimes
school
, always my
partner
,
Legosteine
, and often our deep and intense love of
food
.
Cat:
Der schadenfrohe Joe.
Career:
I have a PhD in German literature and am currently a long-term visiting assistant professor at a pretty groovy school. Thumbs pressed it becomes my forever home.
Partner:
The world's most wonderful.
Legosteine:
All the damned time.
Food:
Yes, please. I love to cook, eat, experiment with new flavors, and try out new restaurants. I'm lucky enough to have a partner who loves it even more than I do and whose cooking is out of this world.
I spend my spare time wishing I had more spare time. I say things like wicked good. I like board games, ugly and/or stupid hats, and bad television. I'm a desert rat and a mogul mouse, love the Mojave, the Sierras, and the desert in between, and the whole of Germany, but I've learned I can make a place for myself anywhere.
This journal is friends-only. It's to protect you from the crazy.

Connect
bad puns
,
basset hounds
,
beagles
, beards in general,
beer
,
bicycling
,
birds
,
board games
,
bob barker
,
bob dobbs
,
bob dylan
,
bob marley
,
bob roberts
,
bob ross
,
bob saget
, brontosauri,
california guitar trio
,
camping
, cat behavior, cats with broken tails,
cereal
, cheese that crumbles, chickpeas and their uses,
childfreedom
, chocolate snobbery,
coast to coast a.m.
,
cooking
,
david bowie
,
dinosaurs
,
eggs
,
elephants
,
eric clapton
, fidel castro's beard,
folk music
,
food
,
foreign travel
,
frank zappa
,
fruit
,
futurama
,
garden gnomes
,
german
,
germany
,
grammar
,
grocery shopping
,
johnny cash
,
joshua trees
,
kismet
,
knick-knacks
,
led zeppelin
,
legos
,
lord of the rings
, luggage racks,
m*a*s*h
,
matlock
,
monty python
,
mountains
, napoleon complex, neopolitan ice cream,
nevada
,
paella
,
peanut butter
,
pearl jam
, people's court,
pink floyd
,
ps2
,
queen
,
rammstein
, raw nuts,
reno
,
risk
,
rolling stones
, saarbrücken germany,
sarkasmus
,
scrabble
,
shoes
,
skiing
,
snoopy
,
spaetzle
,
spanish food
,
taxi driver
,
tenacious d
,
the desert
, the sierras,
the simpsons
,
thrift stores
,
tool
,
trivial pursuit
,
unsolved mysteries
,
van gogh
,
vegetarianism
, vicariously living spain, wandering slowly through supermarkets,
wayne's world
,
wine
,
woody allen
,
woody guthrie
,
woody harrelson
,
woody woodpecker
, woody woodrow wilson's pecker,
yoga
,
zingerman's
greyflannelgnome

People
[View Entries]

Communities
[View entries]

Feeds
[View Entries]

Subscriptions (0)

Linking
To link to this user, copy this code:
On Dreamwidth:
Elsewhere: